Finance Minister Smt. Nirmala Sitharaman officially launched the facility of instant Permanent Account Number (PAN) allotment using Aadhaar based e-KYC on May 28, 2020. Through this facility, PAN will be allotted on a near to a real-time basis. This facility is paperless and free of cost.
The trial version of this facility was earlier started on February 12, 2020, on Income Tax Department's e-filing website. From that day forward more than 6 lakhs instant PAN has been allotted with a turnaround time of about 10 minutes.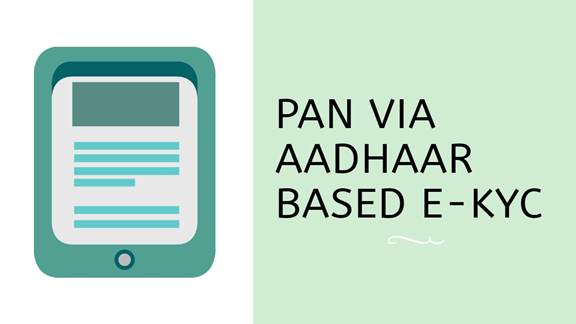 What is the facility ?
Using your valid Aadhaar number issued by Unique Identification Authority of India (UIDAI), your e- KYC data will be processed in Income Tax database and you will be allotted a Permanent Account Number (PAN) in near real time.
Who can use this facility?
PAN applicants who have a valid AADHAAR number and
Their mobile number is registered with AADHAAR
Note that the Aadhaar number should not be linked with any PAN.
Process for generating instant PAN via AADHAAR –
The process for getting Permanent account number (PAN) is very simple.
Go to Income Tax Department's e-filing website
Click on the link "Instant PAN through Aadhaar"
Click on "Get new PAN"
Submit your valid Aadhaar number, enter the captcha code given on the screen and confirm the details by checking the box "I confirm that"
OTP number will be sent to your registered Aadhaar mobile number
Enter the OTP and validate your Aadhaar details
On completion of this process a 15 digit acknowledgement number will be generated.
The applicant can check the status by clicking on "Check Status/download PAN" and after successful allotment, a message will be sent on the mobile number of applicant (if registered with UIDAI) then he/she can download the e-PAN from the website. The PDF version of e- PAN will also be sent at applicant's email address registered with Aadhaar.
For getting a Permanent account number via Aadhaar based e-KYC, you are not required to submit any document, scanned photo or digital signature. The process is online with no paperwork. This instant facility will ease the process for generating PAN number and is also less time consuming. It is a great step towards digital India.
The official website for this facility is – www.incometaxindiaefiling.gov.in
This Article is submitted by Ms. Shruti Yadav & she can be reached at yshruti83@gmail.com
---
Hii, want to get publish your article at www.bharatax.in, then submit your article here or send a mail to article.bt@gmail.com